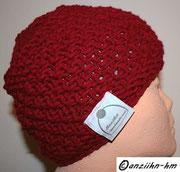 Ich habe nun den Bereich der Mützen komplett überarbeitet und neu aufgeteilt.Nun sind die Mützen in die verschiedenen Collectionen aufgeteilt,dass nun eine viel bessere Übersicht herrscht.
So sind auch diverse neue Modelle in der Beanie-Collection '11 dazu gekommen, check it out.
I have now sortet the complete range of beanies. The Beanies are in the various collections divided, that there is now a much better view.

Including several new models in the Beanie Collection '11 added. Check it out.